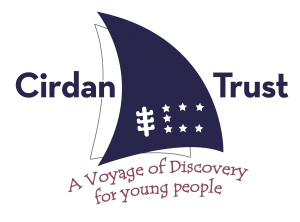 The Voyage of Discovery scheme is an essential aspect of Cirdan's work which focuses on providing a service for disadvantaged young people.  The young people and few special needs adults who participate in Cirdan's Voyage of Discovery aboard it's small fleet of off-shore sailing vessels face disadvantage in their lives.  This mainly relates to social deprivation and special needs but also includes exclusion from mainstream education and society and other forms of vulnerability.
Through the active involvement and challenge of life at sea, the young people learn about themselves, develop an acceptance of others, a willingness to take controlled risks, discover hidden strengths and talents and an understanding of the value of working as a team.
The generosity of the Whirlwind Charitable Trust plays a valuable and much appreciated part in helping Cirdan provide this life changing experience to members of society who most need it.