Broadening the horizons of disadvantaged young people at Sea!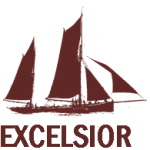 The Excelsior Trust formed in 1983 to take on the restoration and maintenance of Excelsior, an historic Lowestoft Sailing Trawler.  Today she provides a unique sailing experience to disadvantaged young people aged 13-18 which is challenging and unfamiliar to them, away from their everyday life.
When young people board Excelsior they enter another world, a world of adventure and challenge. They have a real task to complete: they have to become a crew member and their ship has to sail safely to a stated destination and back within a set period of time.  Young people develop new skills, make new friends, see new places and conquer their fears and anxieties.  It is with thanks to The Whirlwind Charitable Trust for their continued support.